Ultrafaux with Very Special Guest Evan Price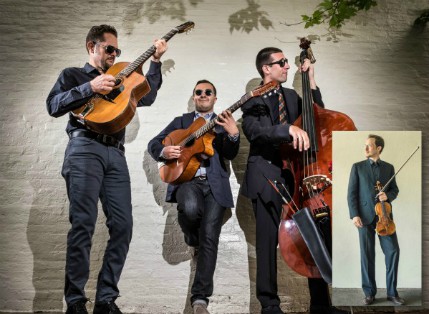 Wednesday, September 5 – Ultrafaux with Very Special Guest Evan Price
7:30 pm, Boathouse Theatre

Baltimore-based Ultrafaux, led by guitarist/composer Michael Joseph Harris, performs original music influenced by Manouche guitarist Django Reinhardt, Balkan folk, gypsy swing, be-bop, trad Jazz, funk, and French musette. The band is an acoustic powerhouse of upright bass and two guitars trading dazzling leads over rich gypsy-inspired harmonies.

Evan Price is a two-time Grammy Award winning classical-crossover violinist who now plays with the renowned jazz supergroup Hot Club of San Francisco.

PLEASE NOTE: Prices at the door at $2 higher for General admission and $5 higher for preferred seating (where applicable. Member discounts are $2 for General Admission and $5 for Preferred Seating (where applicable).