Boathouse Theatre 25th Anniversary Celebration with Dirty Cello & Claudia Russell and Bruce Kaplan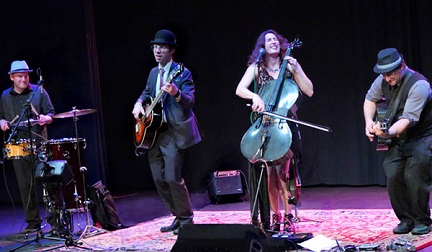 Celebrate 25 years of performances in Valhalla's Boathouse Theatre with Dirty Cello and Friends! This special show will include giveaways, recognition of Valhalla's founders and 100% of donations made at the show will go to the Boathouse Theatre Improvement Fund. In the last 5 years, Valhalla has raised more than $20,000 to replace the analogue sound system and outdated theatre lighting. We are excited to mark 25 years by beginning these projects to improve our audience's experience.
The 25th anniversary show will feature Dirty Cello led by vivacious cross-over cellist, Rebecca Roudman, Dirty Cello is cello like you've never heard before. From down home blues with a wailing cello to virtuosic stompin' bluegrass, Dirty Cello is a band that gets your heart thumping and your toes tapping!
"Dirty Cello's music is all over the map: funky, carnival, romantic, sexy, tangled, electric, fiercely rhythmic, and textured, and only occasionally classical." Oakland Magazine
The show will open with Claudia Russell and Bruce Kaplan playing Fine Folk Music. Claudia Russell is an outstanding singer and songwriter who has shared stages with Dave Carter and Tracy Grammer, Loudon Wainwright III, Steve Forbert, Tish Hinojosa, Kris Kristoffersen, Willie Nelson, Darryl Purpose, Peter Rowan, Rosalie Sorrels and Bill Staines, among many others.
"Singer-songwriter Claudia Russell can really sing! Not only does she have an impressive set of pipes, she interprets songs rather than merely convey the lyrics. She's a superior voice in the crowded field of singer-songwriters." – RICH WARREN, SING OUT
Due to the Caldor Fire and Forest Closures this show has been rescheduled for Wednesday, Oct. 6, 2021.
Due to the Caldor Fire and Forest Closures this show has been rescheduled from Sept. 6, 2021.

All tickets purchased are now good on the new date. If you purchased tickets but cannot make the new date or do not feel comfortable being inside with 100+ masked people due to COVID, please email info@valhallatahoe.com with your full name and order number for a refund.