Ideateam - August 30, 2023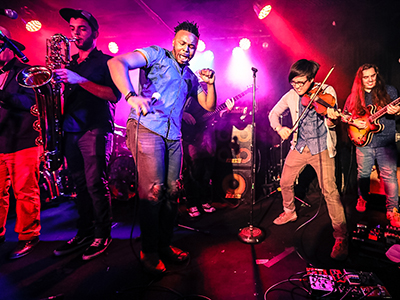 Ideateam is an evolving cast of Sacramento-based musicians who collectively collaborate to refine their craft through their distinct original compositions, along with an array of both vintage and modern cover arrangements. The band's live sets are known for flowing in and around a winding fusion of grooves while leaning on a foundation of experimental funk, soul, and r&b sounds.
"[...] expecting the funk in its purest primordial form: A confluence of tight, technical tunes dripping with that amalgam of mud and forest floor, where spores rise of their own accord and you have no choice but to sit and sully your blue-and-white dress to consider the mushroom, to heed the nearby placard reading: "Eat me." - Dave Kempa, Sacramento News & Review
"This large ensemble from Sacramento became a local's favorite the first time they hit our stage. What's not to like about hypnotic rhythms, funky horns, captivating melodies, rockin' jams and a cast of alluring vocalists? A light bulb will go on as soon as you see what the fuss is all about." - Tyler Blue, Crazy Horse Saloon
Video:
On the Way


Video:
Workin'
Sponsored by Beach Retreat & Lodge and South of North Brewing Co.