Childrens Art and Drama Camps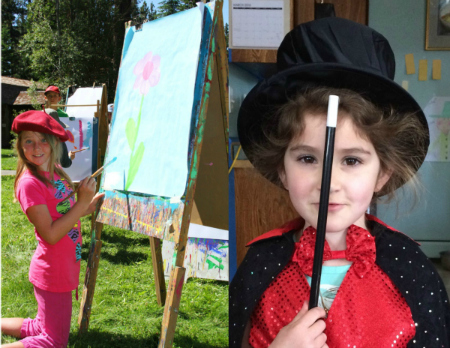 July 10-14 and 17-21, 9:00 am 1:00 pm and 12:00 pm – 4:00 pm – Gina Stowell Children's Art Camp and Anne Davidson Children's Drama Camp - Various Outdoor Locations - $200 - $350

To Register for Art Camp:
please call Gina Stowell at 530-318-3639



To Register for Drama Camp:


please call Annie Anne Davidson at

775-220-7385

Outdoor Painting/Art Camp at Valhalla Grand Hall at the Tallac Historic Site- Ages 5 to 12
Gina's outdoor camps are designed to allow students to play through painting. They are encouraged to discover the excitement and freedom of painting, and seize the instinctual urge to experiment with color and shapes.
The painting sessions share art in nature, art history, Tahoe history with fun painting techniques, book making and sketching while exploring this beautiful historic site. Students have fun painting on the lawn, making their nature journals and sketching at the lake shore. Thursday the kids team up wearing their tribes face makeup, for the scavenger hunt with fun prizes for all. And of course on Friday, the students use their best manners and host their own ART SHOW for family and friends!
Outdoor Drama Camp at Valhalla Grand Hall at the Tallac Historic Site- Ages 5 to 12
Annie's outdoor camp are designed to have children experience their world through the dramatic arts and to help them turn their developmentally-driven imaginative plays into more formalized experiences with others. With Lake Tahoe as our natural setting, children will build a play each day, exploring story elements of setting, character, conflict, and solution. Focus is on the artistic process and using our imaginations to deepen our connection to the Earth, creativity, and each other. Each day will use a different theme to construct stories with beginning, middle and end. On Friday, come early to share in the children's work!
Note: This year we have added an hour at the beach from, noon to 1:00. Students please, wear sunscreen, swimsuit and a hat as well as bringing a healthy lunch and water and towel.Camp Pricing:Morning Session (Five days): $200Afternoon Session (Five days): $200Morning and Afternoon Sessions (Five days): $350

To Register for Art Camp:

please call Gina Stowell at

530-318-3639

To Register for Drama Camp:

please call Annie Anne Davidson at

775-220-7385