Valhalla Tahoe Presents Steel Magnolias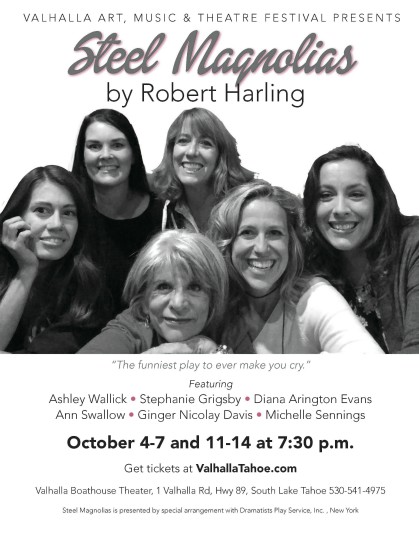 Thursday - Sunday, October 4-7 and 11-14 – Valhalla Tahoe Presents Steel Magnolias
7:30 pm, Boathouse Theatre

Fall in love with the kind-hearted group of gossipy southern ladies in a small-town beauty parlor. Alternating between hilarious and touching, the play reveals the ultimate strength and purposefulness of sisterhood. "Harling has given his women sharp, funny dialogue…The play builds to a conclusion that is deeply moving." —NY Daily News.

An all-star local cast directed by Mark Williams.

Purchase Preferred Seating and receive a free drink with each Preferred Seating ticket!

PLEASE NOTE: Prices at the door at $2 higher for General admission and $5 higher for preferred seating (where applicable. Member discounts are $2 for General Admission and $5 for Preferred Seating (where applicable).